Facility guidance

Katsushika Shibamata Tora-san Museum, Yamada Yoji Museum (sightseeing Cultural Center)

 Our memorial hall is unique building united with super dike. From "arbor" of Shibamata Park top marrying the inside of memorial hall by elevator, we can overlook flow of Sakra Deranam Indra and Yamamototei and magnificent Edogawa.

The situation for barrier-free: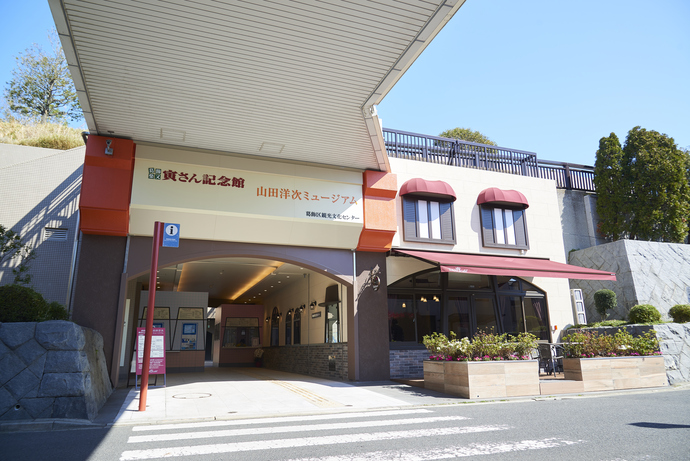 The highlight

 In addition, we reproduce the world of "It's Tough Being a Man" to set of "the morning sun printing office" of "car" which we transferred from big boat studio and that "octopus president" at corners to sit down on classic station building and station service room, passenger car box seat under the theme of display corners such as real leather bags which tiger actually used, "trip of railroad to enjoy with tiger", and to be able to enjoy the excellent scene. In addition, you can enjoy Q&A corner that can challenge taking a ceremonial photograph corner (pay) and quiz about work that can take souvenir picture with tiger.
 "Yamada Yoji Museum" to add acts as the original, script, supervisor of movie "It's Tough Being a Man" series and is Tora-san Memorial honor director, Katsushika City honor ward inhabitant and is museum where thought to the making of many works and movies engaged in so far of Director Yoji Yamada presented with the Order of Culture in 2012 was spelled on nine themes.
 Please enjoy in conjunction with TORAsan cafe founded in 2019.
The location

〒125-0052 6-22-19, Shibamata, Katsushika-ku, Tokyo

Phone number

03-3657-3455

Opening time

From 9:00 a.m. to 5:00 p.m. (last admission 4:30 p.m.)

Closed days

From third Tuesday (weekdays but third Tuesday in the case of holiday, holiday just after that), third Tuesday of December to Thursday
※We do business for New Year holidays

Parking lot

Shibamata Park parking open space (pay)

Access

Keisei Electric Railway Kanamachi Line
An 8-minute walk from "Shibamata" station
Hokuso Railway
A 12-minute walk from "Shinshibamata" station
Keisei bus
Koiwa Station - Kanamachi Station
"Shibamata Sakra Deranam Indra" drop off walk seven minutes

Admission charges

General 500 yen
Primary and secondary student 300 yen
Senior (65 years or older) 400 yen
Group (more than 20 people) 400 yen
※People having disability certificate become free of charge.
Detailed information
Map
map
When map is not displayed, please see than the following link.
Convenience book cord: wb308