Please use Katsushika City public wireless LAN "Katsushika_Free_Wi-Fi"
Service summary
 We apply Katsushika City public wireless LAN "Katsushika_Free_Wi-Fi" which even anyone is for free, and is available to provide environment that visitor including foreign tourist that further increase is anticipated will send information easily in future using smartphone or tablet terminal and can collect in Katsushika City.
Anyone is available free if you have communication terminal which you can connect to public wireless LAN.
It is easily available just to register e-mail address. (information that we registered is effective for 365 days.)
The connection number of times is available to 15 times a day. (until 30 minutes per once)
Top page (portal site) for "Katsushika_Free_Wi-Fi" connection supports English, Chinese (Chinese Traditional, simplified Chinese character), Korean other than Japanese.
About usage of "Katsushika_Free_Wi-Fi", please see "use procedure" (manual) as follows.
Area signature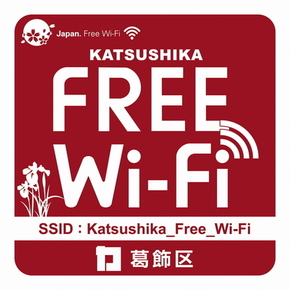 Service offer area
Service offer areas of "Katsushika_Free_Wi-Fi" are as follows. It is available in the range of red frame of each area. ※Range becomes approximate indication.
Shibamata area
Kameari Station north exit area
Kameari Station south exit area
 In the Kameari Station north exit, south exit area, "Katsushika_Free_Wi-Fi" is available around kochi tortoise bronze statue. About list of kochi tortoise bronze statues, please confirm from link as follows.
Shinkoiwa area
Cooperation with other public wireless LAN by exclusive application (Japan Connected-free Wi-Fi)
 "Katsushika_Free_Wi-Fi" supports certification application "Japan Connected-free Wi-Fi" that NTT BroadbandPlatform, Inc (following "NTTBP") provides (following "Japan Wi-Fi"). In this way, we can connect even other areas (approximately 160,000 access point ※ 1 such as major airport of all over Japan, main stations, Sightseeing facilities) having, in addition, you already participate in "Japan Wi-Fi" in area of "Katsushika_Free_Wi-Fi" to free Wi-Fi by simple operation if we register the use of application once ※2.
 Please refer to homepage (following link) of NTTBP for detailed usage.
※It is the number of the access point as of 1 end of April, 2017.
※You use 2 application and the use is to register, but can use "Katsushika_Free_Wi-Fi" by browser individually.
Terms of Use
 In the use of "Katsushika_Free_Wi-Fi", please use after agreement in the following Terms of Use. In addition, by the use of this service, we consider that to read Terms of Use and was agreed to contents.
Instructions
This service uses Internet connection function that NTTBP which is carrier which Katsushika City entrusts with provides.
This service does not use security such as WEP where preestablishment to terminal is necessary for so that anyone is easily available. Therefore communication contents of wireless section (sections from terminal to access point) are intercepted by malicious third party and they steel a glance at personal information such as ID and password, credit card number that they input and may be done. You understand so enough, and please use this service in responsibility of the user.
By maintenance of setting apparatus, it may not be available temporarily. Thank you for your understanding beforehand.
When you see PDF file, Adobe Reader is necessary. Please perform downloading (free) of one that you do not have from site (you open with new window) of Adobe Systems Incorporated.
Inquiry
about this page
Person in charge of Information Policy Division plan
〒124-8555 5-13-1, Tateishi, Katsushika-ku Katsushika City Office the sixth floor 603rd Services
Telephone: 03-5654-8130 fax: 03-5698-1501
Inquiry by E-mail, please use this exclusive foam.